Fork It is a brand new business that took the spot right next to Starbucks on Miracle Mile. I'm excited for some great sandwiches and a super convenient spot to grab food and then your coffee for the day.
The staff was friendly and the menu is appealing to picky and adventurous eaters, however the reason they're a three star for me is because I think they're still going through some new business bumps and changes.
We had four people in our party and three separate orders. Between us we ordered a few orders of wings, fries, mozzarella sticks and a couple tri-tip sandwiches. They have bottled beverages and three people ordered water, two normal waters and one fancy Voss water.
First, we had some confusion with the drinks, while the fancy glass bottle was appealing for Voss my co-worker didn't realize it was only the carbonated water and not the flat version and she is not a fan of bubbles.
Luckily we warned her before she opened the bottle (we saw the sparkling label) and we were able to get her a refund so she could buy normal flat water. The other two in my party somehow ended up with flavored fizzy water instead of flat normal water as well.
They accepted their fate and decided to sip on the flavored stuff. Maybe a big pitcher or container of ice water with plastic cups for anyone to help themselves could help against the plain water confusion?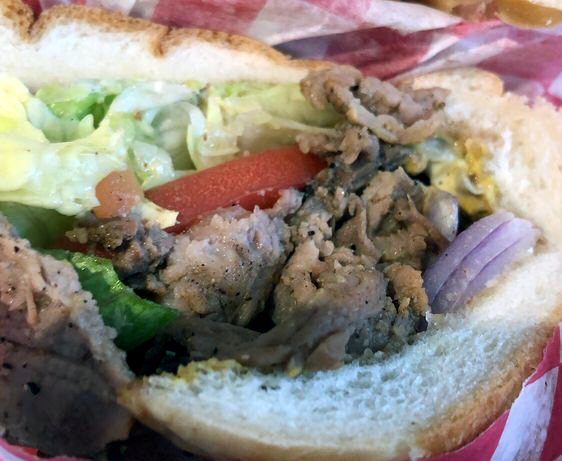 As we started receiving our food we were excited to dig in. The tri-tip sandwiches are a good size and the twelve inch is literally two six inch sandwiches sliced in half (four pieces) and enough to feed two hungry people or one REALLY hungry person. The flavor of the meat was great and the Genova bread is always a great choice.
The sides of fries and mozzarella sticks were standard restaurant sides and came out hot. Great if you're craving them, but not special to Fork It.
The wings were ok. One of my party had asked for flats only and still ended up with drums and mine were all drums and no flats. This isn't a huge deal to me because I like both but it was weird because they usually serve a few of each in an order.
The part that got me was that I had ordered their eight pack of buffalo wings, because they're my way of finding out if a place makes decent wings (my husband's whole family is from Buffalo) and they accidentally made me the lemon pepper ones.
I let them know nicely and they were super gracious about it and brought out new ones way too quickly to have created a new batch. I immediately was suspicious but as I bit in I knew… they had re-coated the lemon pepper with buffalo sauce.
I am not a picky eater at all and to be honest they did not taste bad, I could just tell they were lemony, buffalo wings and unfortunately that isn't the right way to fix a messed up order. I would have totally waited for new ones, no problem. I ate my food, didn't make a fuss because they know what they did and I hope they move through these growing pains and once they're more established do things correctly with less hiccups.
Would I go back? Yes, I'll try them in a few weeks and definitely update my review. The sandwich was really good but they need some more training and to think about the experience their customers are having when they dine at a new restaurant.
My advice to customers is to double check that the order you ask for is put in correctly and ask questions about menu items and drinks to make sure there are no miscommunications.
Fork It Working Out the Kinks
The Good
Friendly Staff
Really nice portion for sandwiches
The Bad
Lot of new business kinks to work out including correct orders
Not super thrilled with how they corrected my "wrong order"